爱@元宵 – 金碧辉煌春节庆典
Venue: Quarry Park, Botanic Garden, Penang View Map
Date: 14th February, 2014 (Friday)
Time: 5pm – 11pm
Presenter: Celcom Axiata Berhad.
Organizer: CreatiVision D. C. Sdn. Bhd.
Endorser: Majlis Perbandaran Pulau Pinang, Jabatan Kebun Bunga, Penang Global Tourism.
The 15th day of the Lunar New Year marks the first full moon after the Spring Festival. It is known as Yuán Xiāo Jié worldwide or Chap Goh Meh in the Hokkien community. The day is also known as Chinese Valentine's Day which is celebrated at night with lantern displays. In ancient China, it was the night that girls were allowed to leave homes to appreciate lanterns along the streets and they would drop their handkerchiefs for young men to pick them up and get to know them.
This year, Yuan Xiao Jie and Valentine's Day fall on the same day, 14h February (it happens once in every 19 years). Therefore, CreatiVision plans to celebrate this special occasion by turning the Quarry Park, Botanic Garden, Penang into a colourful event hall. The celebration incorporates a wide range of entertainment and programs. The event is produced by CreatiVision D. C. Sdn. Bhd, the Organizer, in partnership with local authorities, Chinese associations, press and media. The event venue will be transformed into an extravaganza of shimmering lights, themed lanterns, street carnivals and concert hall.
Admission to this event is free.
Free Shuttle Schedule
Queensbay Mall Bus Stop – Penang Botanic Gardens
Est. Travel Time (1 loop): 1 hour 40 min
Frequency: 60 min
| | | |
| --- | --- | --- |
| Queensbay Mall Bus Stop | To Penang Botanic Gardens | To Queensbay Mall Bus Stop |
| 4.00pm | 4.50pm | 5.40pm |
| 5.00pm | 5.50pm | 6.40pm |
| 6.00pm | 6.50pm | 7.40pm |
| 7.00pm | 7.50pm | 8.40pm |
| 8.00pm | 8.50pm | 9.40pm |
| 9.00pm | 9.50pm | 10.40pm |
| 10.00pm | 10.50pm | 11.40pm |
| 11.00pm | 11.50pm | 12.40pm |
| 12.00am | 12.50pm | 1.40pm |
Weld Quay Bus Terminal – Komtar(pick up) – Gurney Plaza Bus Stop(pick up) – Penang Botanic Gardens
Est. Travel Time (1 loop): 1 hour 5 min
Frequency: 40 min
| | | |
| --- | --- | --- |
| Weld Quay Bus Terminal | To Penang Botanic Gardens | To Weld Quay Bus Terminal |
| 4.00pm | 4.30pm | 5.05pm |
| 4.40pm | 5.10pm | 5.45pm |
| 5.20pm | 5.50pm | 6.25pm |
| 6.00pm | 6.30pm | 7.05pm |
| 6.40pm | 7.10pm | 7.45pm |
| 7.20pm | 7.50pm | 8.25pm |
| 8.00pm | 8.30pm | 9.05pm |
| 8.40pm | 9.10pm | 9.45pm |
| 9.20pm | 9.50pm | 10.25pm |
| 10.00pm | 10.30pm | 11.05pm |
| 10.40pm | 11.10pm | 11.45pm |
| 11.20pm | 11.50pm | 12.25am |
| 12.00am | 12.30am | 1.05am |
Site Plan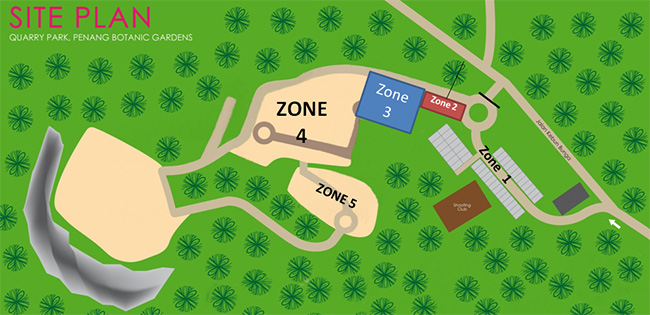 Event Photo
Special Proposal Program