The 3rd Mid-Autumn FestoRama @ Pearl of The Orient 2014 (MAF2014)
"紫在今宵…我等着你回来" 第三届金碧辉煌迎中秋
Venue: Lebuh Pantai (Beach Street), Lebuh Gereja, Gat Lebuh Gereja, Penang. View Map
Time: Carnival – 3pm to 11pm; Musical Performances – 5pm to 11pm
Date: 7th September, 2014 (Sunday)
Organizer: CreatiVision D. C. Sdn. Bhd.
Presenter: Celcom Axiata Berhad.
Official Property Development Group: Global Oriental Berhad
Endorser: Majlis Perbandaran Pulau Pinang
Supported by: Penang Global Tourism
Official Hotel: Glow Penang by Zinc
Official Radio Station: Radio 988
Theme: The Ultimate 1970s
Objective: Keep the tradition alive 活化传统
Road Block Plan from 6pm on 6th September to 6am on 8th September, 2014.
Mid-Autumn is one of the major celebrations in the Chinese community, with many festive activities and special public performances. As the full moon symbolizes reunion (圆 – yuan), it is also known as the Festival of Reunion. All family members get together on this special day.
Last year, on the 15th day of the 8th Lunar month, we were celebrating the Mid-Autumn Festival against a backdrop of old Shanghai in the middle of the city's business district, Beach Street, Penang. Many came in the funky styles of the 1950s and 60s – turned-up collars, pointed black shoes, polka-dotted skirts and hair-sprayed hair-dos. Chinese drum beats heralded opening of the festival by Penang Municipal Council President, Datuk Patahiyah Ismail. Hundreds of lanterns lit up at sunset, illuminating the vibrant street while "Tango in Shanghai" raged on the street, with flash mob dancers leading the way. Programs lined up included Golden Old Shanghai Musical Performance, Creative Mooncake-making Competition, Mooncake-eating Competition, Chinese Martial Arts Demonstration and Golden Oldies Karaoke performance. At the Chinese Arts and Craft's pavilion, visitors were awed as artisans demonstrated rarely seen works of art. About 100 classic cars were parked in nearby Lebuh Downing for visitors to admire. To crown it all, there was the main stage, stretched and longest catwalk of a grand Cheong Sam Fashion Parade and Presentation by top local designers and models. The one-day event attracted an estimated 70,000 people.
This year, we plan to celebrate this special occasion by turning the same venues into a colorful dance hall of 1970s – the ultimate Disco era. The 70s disco era might have reached its peak in the mid to late 70s, but few can resist the temptation even today to get down and boogie when they hear the Village People's YMCA or the Bee Gees playing Staying Alive. There's just something about the disco rhythm that gets your feet and body moving.
This celebration incorporates a wide range of entertainment and programs. The venue will be transformed into an extravaganza of shimmering lights, themed lanterns, street bazaars, and stage shows. MAF2014 is produced in partnership with The Municipal Council of Penang, Chinese associations, press and media.
We would be honoured to see your participation in MAF2014. We are going to have a good time under the Moon light on 7th September, 2014 at Beach Street, Penang.
Enclosed please find the program details. Please do not hesitate to contact us should you need further information.
---
Event Zones:
The Chinese Art & Craft Zone 中华艺术文化馆
The Carnival and Gaming Zone 游戏区
---
The Performance Zone 表演区:
Stage 1 舞台一: 5pm to 11pm
1. CONCERT UNDER THE MOONLIGHT – The Gen-Y concert 月光下的演唱会
Performers 表演歌手:
2. DATIN ONG Comedy Show by Radio 988 DJ – KK
DATIN ONG 栋篤笑-由本地著名988电台主持人KK演绎
3. COMEDY SHOW by Mr. FaiKet (The Malaysian Mr. Bean)
"模仿憨豆先生"由大马版憨豆先生辉吉先生演绎
4. YOUTH MOVE THE STREET flash mobs by Fresh Beat Academy Dance Studio (20 teams)
"五彩槟纷百人起舞"由Fresh Beat Academy Dance Studio 主催和策划 (20队舞者)
Download Youth Move The Street 2014 Lucky Draw Form
5. MID-AUTUMN NIGHT FEVER dance performance by The USM Wonderers
"热舞中秋夜"由理大游子吟会员呈现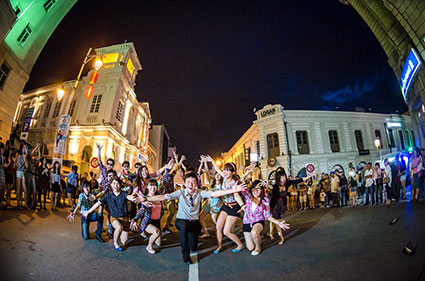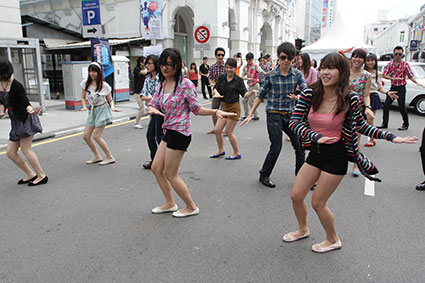 6. THE ULTIMATE 70's DANCE PARTY by Zero Fitness Dance Studio
"七十年代热歌劲舞"由Zero Fitness Dance Studio 主催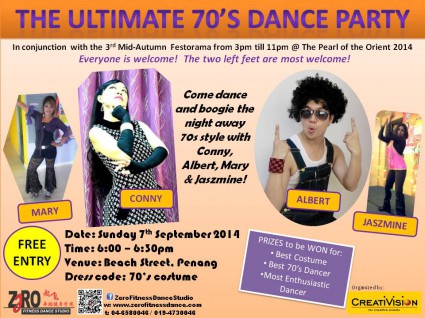 7. GAMES, CONTESTS AND OTHERS 各种游戏比赛和其他节目
Stage 2 舞台二: 6pm to 10pm
1. CHINESE MARTIAL ART DEMONSTRATIONS AND EXHIBITIONS 中华武术表演及展览
Participating associations:
Ip Man Weng Chun Penang 槟城叶问咏春拳法学会
Penang Sao Lim Traditional Martial Arts Recreation Association
Penang Ladies Chin Woo Athletic Association槟城女子精武体育会
Penang Chinese Chin Woo Athletic Association 槟城精武体育会
Zhong Ding Martial Art Center
More
2. THE DEMONSTRATION OF MAKING THE GIANT ORIGAMI LANTERN by Cherry Art Studio.
A fund raising activity for Penang Chinese Girls Private High School
巨型折纸灯笼制作示范由Cherry Art Studio主持为槟华女子独立中学筹款的一项活动

Stage 3 舞台三:6:30pm to 10pm
1. TRIBUTE SHOW TO THE LATE TERESA TENG by Ms. Chan Ai Chia
"怀念邓丽君"表演歌手: 马来西亚小邓丽君曾爱佳小姐
2. "The ULTIMATE 70s"MUSICAL PERFORMANCES "七十年代名曲大会串"
Performers 表演歌手
黄美君 – Astro欢喜来卡拉歌唱大赛2008年亚军 (1st Runner-up in ASTRO Hua Hee Dai Karaoke Competition 2008)
黄得宝 – Astro经典名曲歌唱大赛2008年亚军 (1st Runner-up in ASTRO Classic Golden Melody Singing Competition 2008)
王琬茜 – Astro经典名曲歌唱大赛14强 (Finalist in ASTRO Classic Golden Melody Singing Competition 2008)
3. THE FENG SHUI TALKS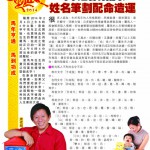 Topic: How to improve the Feng Shui in your living room
如何在家居大厅催旺财位及避开五黄与五虎煞的破坏 – 由康鈰囍老师主讲。
Personal consultation with Master Kh'ng at the Art & Craft Zone from 8:05pm onwards.
4. FREE GIFT DISTRIBUTION by the Event Hosts. Time: 7pm, 8pm 9pm and 10pm
由节目主持派送礼物, 时间:晚上七时,八时,九时,十时
---
Competition and Workshop Zone 比赛区及手工工作坊
1. THE CREATIVE MOONCAKE DISPLAY COMPETITION 创意月饼装饰比赛
Download Creative Mooncake Display Competition 2014
2. THE MID-AUTUMN FESTORAMA CHINESE CALLIGRAPHY COMPETITION "2014金碧辉煌庆中秋中华书法比赛"
co-organized by Calligraphy Society of Penang
协办单位:槟州书艺协会
Download Chinese Calligraphy Competition Registration Form
3. THE ORIGAMI WORKSHOP by Cherry Art Studio 折纸手艺工作坊
Download Paper Folding Lantern Workshop Pre_registration Form

---
Photography Zone 摄影区
3D Arts 立体图板
紫气东来 The purple wind blowing from the East – symbolizes propitious omen.
蓝田种玉 Planting jade in the blue field – symbolizes marriage in heaven
金银满堂 Gold and silver treasures fill the home – symbolizes abundant wealth
青山不老,绿水长存 The green mountain and water stay forever – symbolizes longevity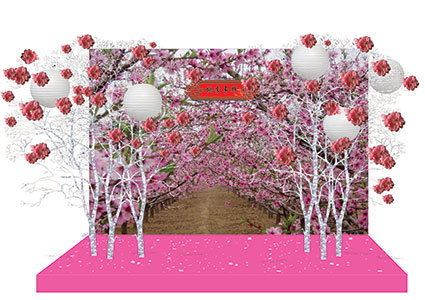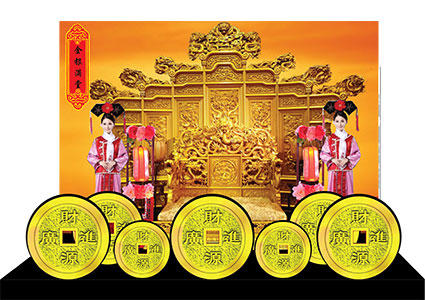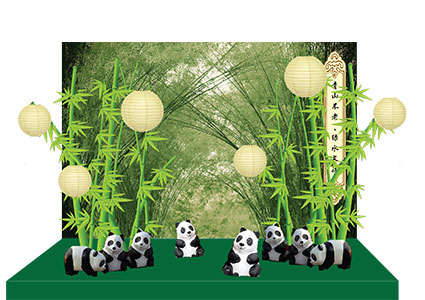 ---
The Food and Beverage Zone 为食街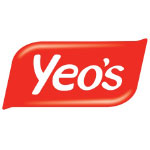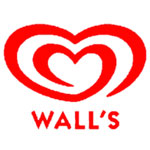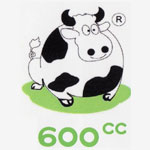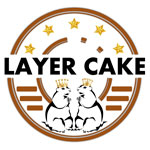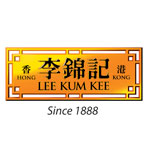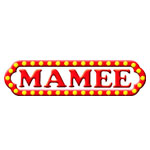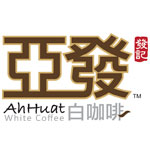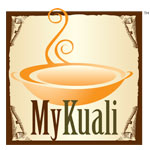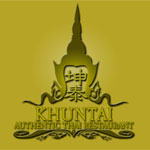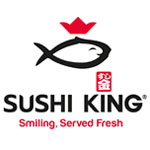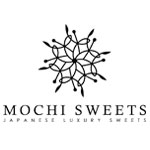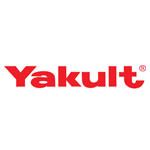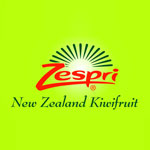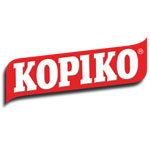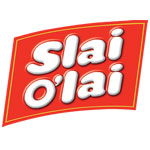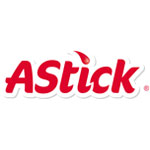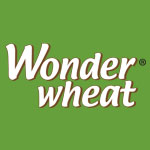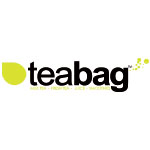 ---
The Art & Craft Zone 艺术文化馆
The Carnival and Gaming Zone 游戏区
Lucky Draws 幸运抽奖
Pick up a copy of the event flyer and fill the Lucky Draw Form. Submit the forms to CreatiVision's counter at Beach Street, Penang before 9pm on 7th September, 2014. 6 winners will be picked every hour from 8pm to10pm on the event day and each winner will take home a RM19.90 worth of Panda soft toy.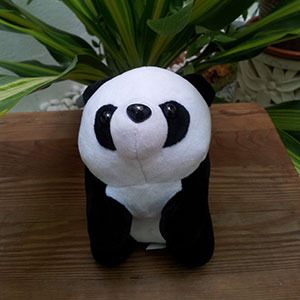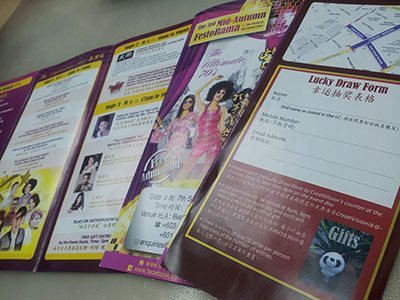 ---
The Green, Clean and Evergreen Act.
We are implementing the Green, Clean and Evergreen Campaign inconjunction with MAF2014. We encourage the public to bring their own food and drink containers as well as their own shopping bags to the event. Public members who display environmentally-friendly behaviour will be rewarded. Show your food containers and recycled bags to the Organizer's Counter at Gat Lebuh Gereja and you will be rewarded with free gifts (first come first served basis).
Free gifts:
handheld Tang Lung sponsored by CreatiVision or
Cooler bags by Walls
Table mats sponsored by Mamee
Tom Yam Instant Noodles by My Kuali
More
We also ban the vendors from using plastic and polystyrene products during the event. We punish the litter bugs and reward the green bees.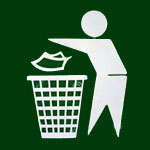 ---
Information
---
Event Photos – Official Launch
Event Photos – Second Press Conference
Event Photos – The Launching Ceremony
Event Photos – Activities
Event Photos – The Art & Craft Zone
Event Photos – The Food & Beverage Zone
Event Photos – The Photography Zone
Event Photos – The Creative Mooncake Display Competition
Event Photos – The Performances Zone (Dances)
Event Photos – The Performance Zone (Mr Bean & Datin Ong)
Event Photos – The Performance Zone – Tribute Show to Teresa Teng & The Ultimate 70′s Concert
Event Photos – The Performances Zone – The Gen-Y Concert
Event Photos – The Origami Workshop and Demonstration of Giant Lantern
Event Photos – Chinese Martial Art Demonstrations (Chinese Wu Shu)
Event Photos – The Chinese Calligraphy Competition