LOVE FROM PENANG WITH LOVE Charity Event
Venue: Padang Kota Lama (Padang Esplanade), Penang View Map
Date: 31st December, 2014
Time: 5pm onwards
Crowd Admission: Free
Expected Crowd size: 100,000 or more per venue
Organized by CreatiVision D. C. Sdn. Berhad
Co-sponsored by VIVO Cellular Sdn. Bhd.
The Official Hotel: Glow Penang by Zinc
The Official Radio: SuriaFM
Endorsed by Majlis Perbandaran Pulau Pinang
Supported by Penang Global Tourism
---
Event Photo
PG2015 1st Press Conference – 8th December, 2014
PG2015 2nd Press Conference – 18th December, 2014
Event Day
---
Programs
From Penang With Love Fund Raising Program for the flood victims
Parked under: Rainbow of Life Forces: Gold Ribbon Grant A Wish Campaign ( A Long term community project funded by CreatiVision) 生命的彩虹金丝带圆梦活动
Program partner and beneficiary: Red Crescent
Time: 10am till 10pm
Activities:

Fund raising (gross collection will be channeled to the flood victims in Malaysia)
Donation in kind ( the wish list will be provided by Red Crescent)
This year marks the 10th edition of the event organized by CreatiVision. The inaugural event was held after the 2004 Tsunami. The current flood situation in Malaysia, particularly in the state of Kelantan where the rate and scale of the flooding have taken even the most seasoned of Kelantanese by surprise has stirred CreatiVision into action. The event will be a platform to encourage goodwill and charity among Malaysians acting in harmony for the benefit of Malaysians in need. Appeals for donations towards MRC's Flood Relief Fund will be made during the event and MRC will also have a collection booth to receive sponsored items.
We at MRC Penang Branch are pleased to collaborate with CreatiVision again, on this meaningful project to raise funds through the event. MRC has always been at the forefront in providing assistance for disaster relief within Malaysia and internationally. Recent operations include Typhoon Haiyan where MRC were among the first to send aid, flying supplies to Tacloban, Philippines and as reported in the press, the ongoing operations in Kelantan and other states. Members of MRC Penang Branch, have been activated and are on standby, with a team tasked to be deployed on Monday to assist in rescue operations in Kelantan.
MRC Penang Branch, based on current requirements, accepts all forms of cash donations or sponsorship of foodstuff such as canned food, milk, milo, rice etc. However, the preferred form is cash donation so that supplies can be obtained as required from sources closer to affected areas. The current situation has rendered long distance transportation and delivery logistically challenging for the time being.
Donations can also be via cheque, made out in favour of MRCS Penang Branch or via deposit to account at Public Bank # 3087736505. If you have further enquiries, Please call MRC Penang Branch at 04-8275678.
---
Ride of Light… by VIVO 脚车行, a charity cycling program.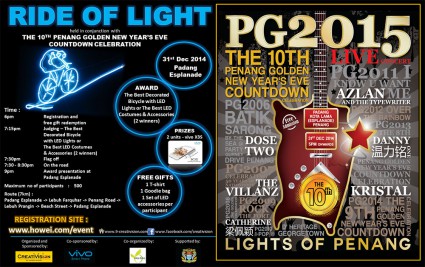 Program partner: G-Club Penang Cyclists
Time: 6pm – 7pm Registration, 7pm – 8pm on the road
Route: Padang Esplanade – Lebuh Farquhar – Penang Road – Lebuh Prangin – Lebuh Pantai – Padang Esplanade.
Maximum intake: 500 participants
Charity:
For donors who are not able to go to Padang Esplanade, they can wait at certain pick up points along the said route. The cyclists will help to collect the goods.
Donors are requested to wait at the following venues from 7:30pm to 8:30pm pn 31st December, 2014 at Cititel, Penang Road, Pacific, Komtar, Standard Chartered Bank, Beach Street.
The Organizer will announce the waiting points on www.9-creativision.com and www.facebook.com/creativision
Door gift/participant: T-shirt, goodie bag, and LED finger rings
Award and prizes: The most creative design of LED lights on bicycle – 2 awards (2 winners will bring home VIVO smart phone each.)
Registration site and paid to : www.howei.com/event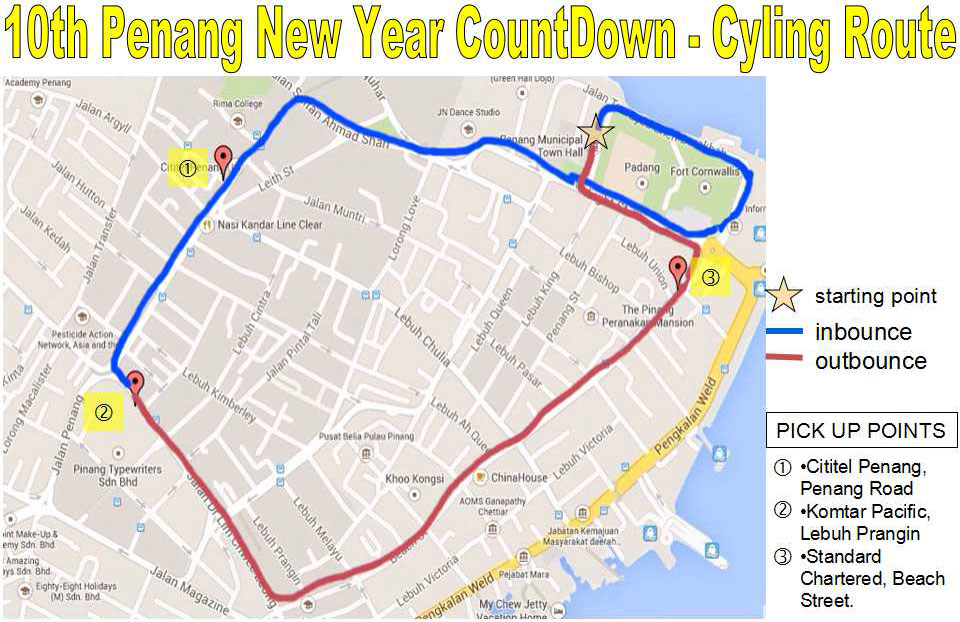 ---
The Penang Golden K-PoP Dance Competition 2015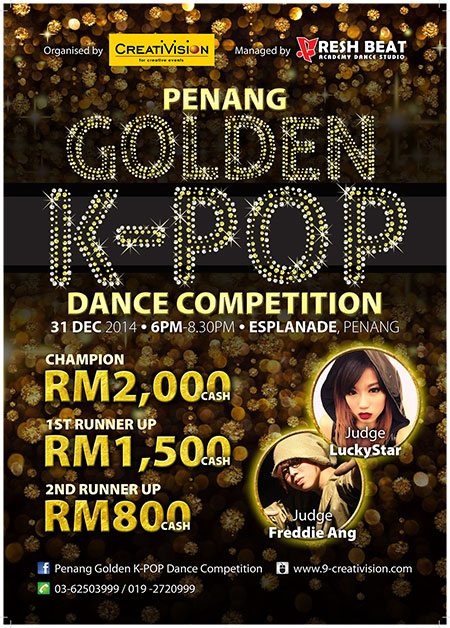 Time: 6pm – 8:30pm
Registration fee: NIL
Maximum intake: 20 teams
Prizes:
Winner: RM 2000
1st Runner up: RM 1500
2nd Runner up: RM 800
---
The Countdown Ceremony will be replaced with prayers
Time : 12am till 12:05am
---
Games, Contests and Lucky Draws
50,000 thousand copies of event leaflets/ lucky draw forms will be distributed nationwide. For those who are interested in joining the lucky draw program will have to submit the form to CreatiVision's counter from 12pm to 9pm on 31st December, 2014. Lucky winners will be picked and gifts will be presented on the same night.
Prizes:
Grand prizes: 916 gold bracelets (1 winner)

2nd Prize: VIVO mobile phone (3 winners)

3rd Prize: 3 days 2 nights stay accommodation at Glow Penang included breakfast for 2 persons (3 winners)

---
Clean, Lean and Evergreen Campaign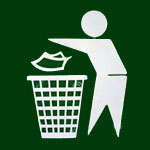 No litter
We will take pictures of the audience who litter and show the pictures on the big screens. For those who behave, we will take pictures too and reward them with gifts.
No plastic bags
We prohibit polystyrene food service packaging. We require food service ware to be biodegradable, compostable, or recyclable.
---
Rainbow of Life Forces: Yellow Ribbon The Gratitude Campaign 2013
生命的彩虹: 黄丝带 "说声谢谢" 活动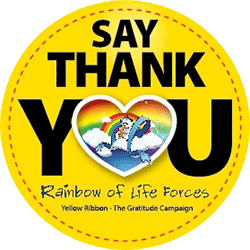 Thank You is one of the underused words of today.
Rainbow of Life Forces: Yellow Ribbon The Gratitude Campaign is initiated by CreatiVision with an objective to remind all of us to express our heartfelt thanks to others in our life especially on a special day like the new year's eve.
Saying Thank You is a very simple thing with the potential to improve our lives & well-being. ROLF Yellow Ribbon The Gratitude Campaign reminds us how fortunate we are in so many ways and let us be very grateful & thankful for this.
Let us put our hands together to promote this campaign. For more information, please visit www.rolfcommunity.org or ROLF Yellow Ribbon The Gratitude Campaign FB Page.
---
Information
For more information, please contact organizer:
CREATIVISION D.C.SDN.BHD