ROLF: Gold Ribbon Campaign
– an awareness campaign to grant and fulfill wishes of the underprivileged children.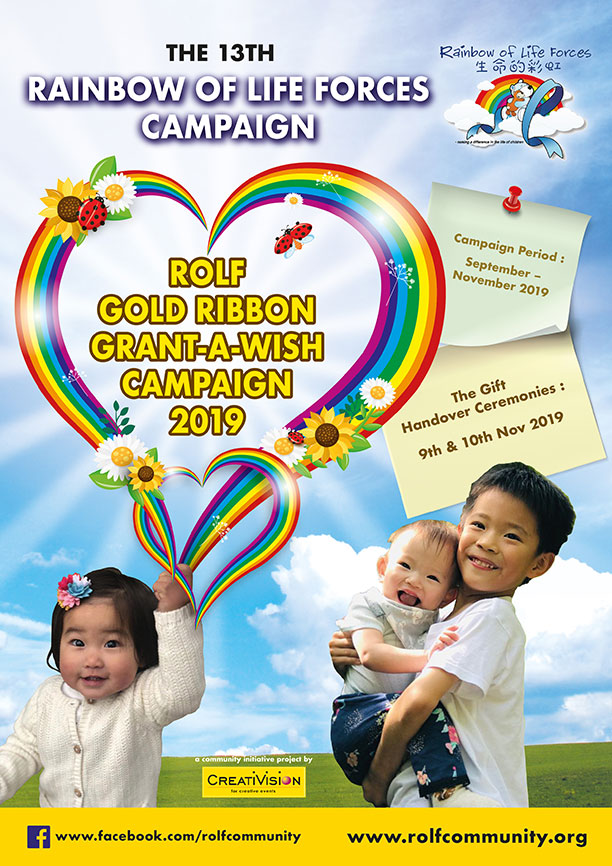 In year 2009, ROLF launched the Gold Ribbon Grant-A-Wish Campaign.
ROLF Gold Ribbon Campaign is initiated to fulfill wishes of children who are underprivileged, marginalized or irremediably disabled (physical and mental). Thus far, we have granted approximately 8000 wishes of the children in Malaysia, India and Nepal.
For many orphanages, the economic downturn has had a severe impact on sponsorship and funding. Contributions to orphanages decline and such a decline may be catastrophic to the organizations. This year, ROLF continues to help granting wishes of the children from 4 legitimate charitable organizations focusing on their basic needs. Kindly refer to the "Wish List".
The wish matching process will take place from 30th September till 1st November, 2019. The Gift Handover Ceremony (donors meet children session) will be held on 9th & 10th November, 2019 in Klang Valley, Malaysia. If you plan to grant the wishes of the children, kindly submit the Grant-A-Wish Form to the Organizer not later than 1st November, 2019.
---
What is EB?