No human, business or organization exists in isolation.
We strongly uphold the concept of "Business in the Community". We embed CSR in almost everything we do, and everyone we deal with.
CreatiVision has never stopped hosting and sponsoring charity events in this region. We raise fund for charitable organizations in the aspect of providing scholarships to enable students to pursue their education; at the same time to provide financial aids to those less fortunate who are in need of immediate medical treatments.
CreatiVision also founded a children program, Rainbow of Life Forces in year 2007 and since then we have been organizing many community campaigns to help the underprivileged children and the less fortunate ones in different areas. We are leading a 1000-volunteer social workforce.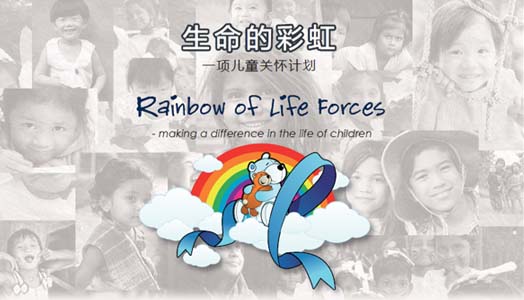 Rainbow of Life Forces or ROLF is a Corporate Social Responsibility (CSR) Campaign which is initiated to give hope to all children regardless of race, religion, background and nationality. ROLF brings nations together in mutually supportive relationships when it comes to enhancing the quality of life for children, particularly in mitigating pains and sufferings of the young. ROLF consists of 7 campaigns. They are Blue Ribbon Campaign, followed by Gold, Orange, Red, Yellow, Green, and Purple. Each of the campaigns is formed to support and help children in different situation.
ROLF is a facilitator and promoter which supports and assists legitimate charitable organizations in their operation and fund raising programs. As we move forward, ROLF will continue to facilitate and expand our social services to help the less fortunate children in the community. We envision a day when every child in Malaysia who solicits funding from the Malaysian public will get the adequate assistance from ROLF. More about ROLF, please visit www.rolfcommunity.org.